WINK CBD Intimacy Sex Lubrication Passion Oil

WINK's Intimacy Passion Arousal Oil with CBD
Ready to elevate your sex life? Your girls at WINK created an all new CBD lubricant that is sure to enhance pleasure.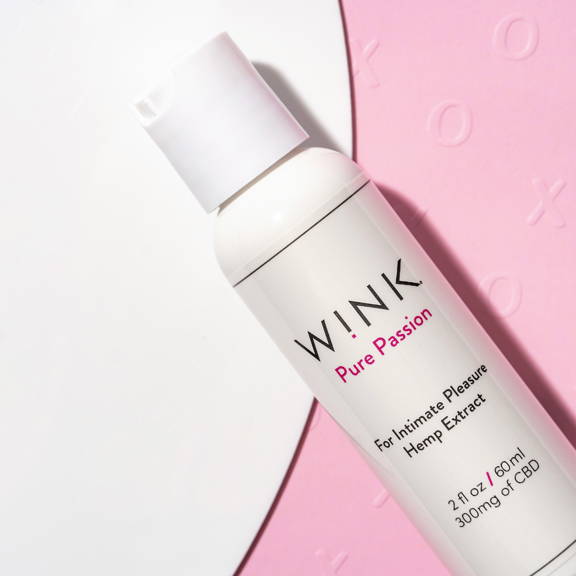 WINK's CBD Passion Oil transforms women's pleasure from a maybe to a definite. It helps with relaxing both vaginal and clitoral tissue and promotes more frequent, intense orgasms. An experience that cannot be explained but needs to be felt!
How might you enjoy it?
Apply a few drops 5 minutes before sex or solo play to your inner labia and clitoris. Uses include foreplay, penetrative sex, and massages on the pelvis. It also works great internally and externally near the anus and prostate, or as a massage oil for the whole body.
ABOUT:
Water-based - no alcohol

Designed specifically for intimate pleasure

Enhances the entire experience

Promotes relaxation

Enhances sensation

Moisturizes delicate skin

Relieves discomfort

Improves mood

Uniquely formulated with libido enhancers
OTHER BENEFITS:
Used topically, CBD promotes increased blood flow – a vital part of arousal and sexual pleasure.
CBD helps relax muscles & ease tension, supporting comfort where it counts.
Discomfort with sex is more common than you'd think. CBD has been shown to help manage this – gently and naturally.
Water-based
Reduces inflammation
https://www.medicalnewstoday.com/articles/326450#_noHeaderPrefixedContent
https://www.self.com/story/10-reasons-you-should-absolutely-use-lube-during-sex
PLEASURE SERUM.
CBD lube for enhanced fun
"Research in this category has ushered in a new era of products that help increase lubrication, enhance sexual pleasure and more. We love a good lube, but there's more to the story now.
Resources for dryness:
https://www.webmd.com/women/guide/vaginal-dryness-causes-moisturizing-treatments
https://www.healthline.com/health/vaginal-dryness
https://www.womens-health-concern.org/help-and-advice/factsheets/vaginal-dryness/
There are three main categories of lubricant: silicone-based, water-based and oil-based lubricants. Women produce natural vaginal lubrication when aroused, but sometimes we need or want more. Vaginal dryness during sex is common, particularly during your period, when estrogen levels fluctuate, as is the case during menopause. Lack of foreplay causes dryness as do certain medications. Lube makes sex more comfortable. You typically apply it in the vagina and vaginal opening and on a penis or vibrator/sex toy.

These are the three lubricant categories broken down:
Silicone-based:
A popular option because it takes longer to evaporate, which is good for extended intercourse. It also works well in water and won't degrade latex condoms. Always check the ingredients to be sure. Silicone-based lubes can leave you feeling sticky, however, and can damage some sex toys.
Water-based:
A better every day option. It evaporates faster than other types, so you might end up re-applying during sex. Safe on condoms and sex toys. Does not leave any residue.
Oil-based:
These work better for women with sensitivities to additives or preservatives and are long lasting and naturally moisturizing. They hold up in water but break down latex condoms and sex toys.
AROUSAL
CBD lubricant for sexual pleasure
While sex is a beautiful thing that's full of life and light, it's also painful, exhausting, and full of hormonal fluctuations that we must endure, especially if our bodies are post pregnancy and trying to rebuild themselves.
Different but similar to lubricants, arousal oils are a topical aphrodisiac that stimulates the body's own natural response. Not all are oil-based, so check for condom-compatibility before using. All arousal oils on the market are a little different in how they work, what ingredients they use, and what they claim to do. Most work topically and externally. Many use natural ingredients such as mint to produce a tingly feel. Others have botanical properties to boost circulation and increase wetness. CBD arousal oils are known to decrease vaginal tension.

CBD.
Sex oil to promote overall WELL BEING
There are a lot of women's testimonials out there reporting that regular use of CBD oil results in a general sense of happiness. There is no finger on the specific, but they all acknowledge a gradual increase of wellbeing.

The changes are subtle and come over time but are life changing. From anxiety to depression to pain management to inflammation-related skin disorders, CBD is helping manage more women-centric issues than we can list.
Women are enjoying the benefits of CBD-infused beauty and spa products, tinctures, mixtures and edibles for a variety of reasons, and in a variety of ways. Its role within the endocannabinoid system and relationship with female hormones is undeniable.
There are a number of ways + uses to feel CBD benefits. We are dedicated to empowering women in their cannabis wellness journey. We welcome all women to contact us with any questions they may have.